Electronic Access Help
---
Bank from your PC! That's right! Click on 'Home Banking Login' on the left side of our homepage to check histories, balance your checkbook, transfer funds, even request a check in the mail!
Receive eStatements:
Choose GenFed's 'No Mess' paperless eStatement. Every month you will receive an email notifying you that your current eStatement is available. Log in to view it and balance your checkbook at the same time. Sign up by logging in to your Home Banking account clicking Accounts and then E-Statement.
Open Additional Accounts:
Don't have time to come into the branch? GenFed encourages you to open additional accounts online. You can open Vacation or Christmas Club accounts, an Escrow account, non-IRA savings certificates, and savings accounts from the privacy of your own home.
Account Access:
You can access your account on-line as soon as your account is established.
Passwords:
Your member number is your GenFed account number. Please contact your branch for assistance if you don't know your password. You will be required to change your password on your first log-in.
MasterCard Information:
You can now see your MasterCard balance in HomeBanking, just like all your other GenFed accounts. You can even make a payment while you're there!
If you have multiple MasterCards listed in HomeBanking due to receiving new cards, you may see multiple payment accounts listed as well. Be sure to transfer your payment into the correct payment (S63) account. For example, S63 matches with CRCD, S63.1 matches with CRCD.1 and so on. Payments are processed the same day if made before 3 PM Monday - Friday (not including holidays) and your MasterCard balance will be updated by midnight. You can also make payments in FREDI using these same procedures.
System Requirements:
Windows (XP, VISTA, WINDOWS 7)
Browser Version:
Internet Explorer 7.0 and up
Mozilla / Firefox 2.0 and up
Opera 9.0 and up
Chrome 4.1 and up
Safari 3.0 and up
Mac
Browser Version:
Internet Explorer 7.0 and up
Mozilla / Firefox All
Opera 10.10
Safari 3.0 and up
OmniWeb [Testing]
Linux / Unix
Browser Version:
Mozilla / Firefox All
Konqueror 3.0 and up
Opera 5.0 and up
Other
Browser Version:
iPhone and iTouch
WML enabled cell phones
HDML enabled cell phones
Palm PQA
Palm Pre cell phones
Blackberry cell phones
Android cell phones
Check Requests:
When you request a check through HomeBanking or FREDI, it will be mailed from Akron, Ohio. Checks are usually mailed at 3:00 PM, EST, every business day. If you request a check after 3:00 or on a non-business day, it will be mailed on the next business day.
Updating Your Pages:
Please note that unless you delete your temporary internet files from your PC, you may be viewing the same information on the web pages you last visited. In order to access the most updated information including your current balances, rates, and other updates, be sure that you delete your temporary internet files at least monthly by going into internet options on your web page tool bar. You may also be able to hit "Refresh" (Internet Explorer) or "Reload" (Netscape).
Free to Active Users:
HomeBanking is free to active users. You should log in at least once every 90 days to be considered an active user. If you do not log in once every 90 days, your license could be released. Right now we keep extra licenses at all times, but in the future there could be a charge for new users. You would be considered a new user if your license has expired.
Log-in Problems:
If you experience problems logging into HomeBanking, email us here at info@genfed.com and answer the questions in this email. This will help us identify causes so we can improve HomeBanking services for you.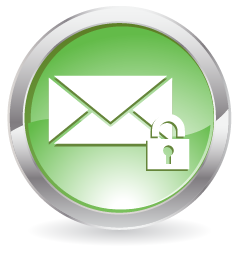 Please DO NOT send private information via standard e-mail. Please click the icon to the left for our SECURE email solution.
For more information about our secure email option, click here.