MasterCard
---
GenFed's MasterCard is a step above those other credit card programs. Our low-rate Platinum cards have a 25 day grace period.
Cick here to see a chart that shows the differences in credit cards from banks and credit unions. The differences will shock you!
Call your branch for more information.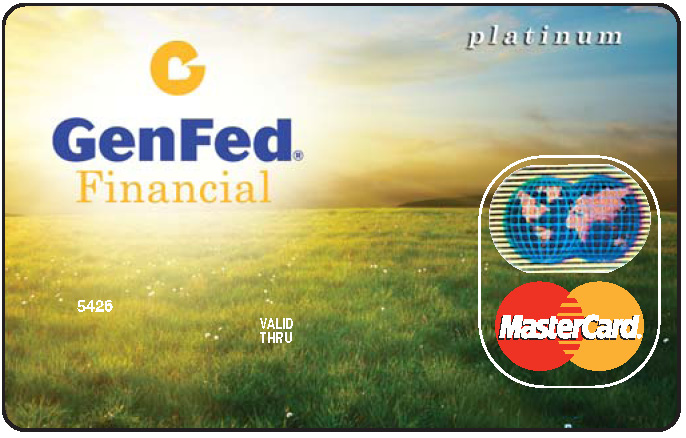 Click here for MasterCard disclosures.
Click here to access your GenFed MasterCard account info. UPLOAD YOUR OWN PHOTO HERE!


Did you know GenFed members are more likely to return to GenFed for another loan than bank customers are to return to their bank for additional loan services? Try us! We promise a top notch lending experience.
---
Introducing Rewards Credit Cards
Wouldn't it be great to earn something when you are spending money? Well, you can! With GenFed's Rewards MasterCard, you can earn valuable points toward premium merchandise and exciting travel opportunities through our new rewards program: CURewards.
How the Program Works
When you enroll in CURewards with GenFed's Rewards MasterCard, you begin to earn points every time you use your credit card. These valuable points are good toward name brand electronics, housewares, fitness equipment and jewelry. You can also choose to redeem them for great travel options like airline tickets, cruises, rental cars, hotels and overseas tours.
How to Earn the Points You Need
You earn one point for every dollar you charge on your GenFed Rewards MasterCard. There is no limit to the amount of points you can earn. You can double your points when you redeem them for travel by using your credit card for any additional travel needs such as extra tickets, car rentals, hotel accommodations and more.
How to Redeem the Points You Earn
CURewards provides a web site for you to select the merchandise or travel you have earned. Just visit www.curewards.com to learn more about the program. You can view all the exciting awards available and print out order forms.
Call us today to get rates as low as 11.96% APR and purchase rewards with a GenFed Rewards MasterCard. Use your rewards on everything from top-of-the-line stereo equipment and electronics to high-end appliances. Furnish your house or travel abroad. Get a brand-new set of clubs or watch the latest game on a big-screen TV. With so much to choose from, and so many points to spend, the possibilities really are virtually endless.