GenFed Receives 102 Straight Bauer 5-Star Ratings
GenFed Receives 102 Straight Bauer 5-Star Ratings
July 2016: BAUERFINANCIAL Inc., Coral Gables, FL, the Nation's Premier Bank and Credit Union Rating Firm, proudly announces that GenFed Financial Credit Union, Akron, Ohio has once again achieved "Best of Bauer" status for earning and maintaining its Highest, 5-Star rating for 25 continuous years or longer.
BAUERFINANCIAL has been analyzing and reporting on the nation's banks and credit unions since 1983… providing ratings you can trust. Earning a 5-Star rating from Bauer indicates that GenFed Financial Credit Union is one of the strongest credit unions in the nation. Some of the areas in which it excels are:
Capital – much more than is required by regulators;
Loan Quality – delinquent loan levels are manageable;
Profitability – while not-for-profit, credit unions must consistently remain in the black to ensure continued success.
"We've been doing this for a long time", notes Karen L. Dorway, president of BauerFinancial, "We've seen the ups …and the downs of this industry and the one constant, is that credit unions like GenFed Financial Credit Union, that promote the financial well-being of their members, continue to shine, even in the toughest times. Since it is member-owned, knowing its members and helping them thrive comes full circle back to the credit union itself."
GenFed Financial Credit Union was established in 1937 and has been serving the changing needs of its members ever since. Today, in addition to its website (www.genfed.com), GenFed Financial Credit Union operates through 12 conveniently located branch offices in Illinois, Indiana and Ohio.
GenFed Financial Credit Union: "Your interest at heart"
Member of the NCUA and an Equal Housing Lender.
BAUERFINANCIAL, Inc., Coral Gables, Florida, the nation's leading independent credit union and bank rating and research firm, has been reporting on and analyzing the performance of U.S. credit unions and banks since 1983. No institution can pay for or opt out of a BauerFinancial rating. Consumers may obtain free star-ratings by visiting bauerfinancial.com.
###
BAUERFINANCIAL, INC. P.O. Box 143520, Coral Gables, FL 33114.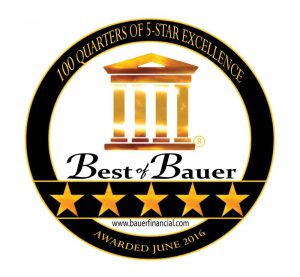 « Return to "Announcements"