Credit Cards
GenFed credit cards give you reliable low rates and great local service.
Don't have 15 minutes to complete the full Credit Card application? Click HERE and take 60 seconds to get started now!
Use Online/Mobile Banking, the Mastercard Login icon above, or the GenFed Cards mobile app to conveniently access your transactions and account information.
Transaction and account alerts (i.e. declines, international transactions, authorization amounts and card not present) are also available by registering here, and inside of online/mobile banking under credit cards.
Plus, add your GenFed Mastercard to your phone's Mobile Wallet for ease in paying at the store or in apps.
You can even pay your bill online, in a branch, or over the phone!
Going on a trip? To avoid potential disruption in service, register your trip using the GenFed Cards mobile app, the number on the back of your Mastercard (866-820-3844), or contact your local branch.
Download the GenFed Cards mobile app from the App Store or Google Play. Use the app to lock and unlock your GenFed Mastercard debit and credit cards. You can also use the app to manage your accounts and report them lost or stolen.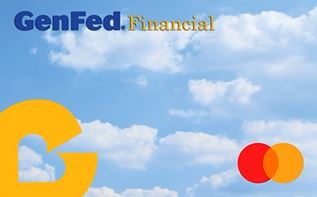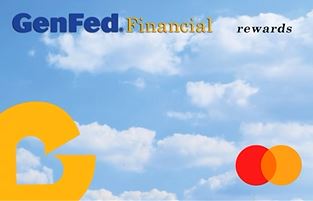 Platinum Mastercard

Enjoy the purchasing power and worldwide acceptance with the friendly local service you always get from GenFed! We offer budgeting help, and you won't be subjected to outside telemarketing.

0% APR for the first 6 months on purchases
2.99% APR for the first 6 months on balance transfers
No annual fees
25 day grace period on purchases
Convenient online account access
Make payments at your local branch
Protection for disputing a charge
Rewards Mastercard - Earn CASH

Earn CASH or rewards with every purchase! This exclusive program from GenFed makes it easy to earn travel opportunities, CASH back, gift cards, premium merchandise, and more.

1 point for every $1 you charge
No limit to the number of points you can earn
Points are good for 5 years
Choose from hundreds of CURewards options when you redeem points including CASH
No annual fees

From CASH to top of the line electronics, to jewelry, housewares, sporting gear and travel, we make having a credit card a more rewarding experience.

Find your rewards balance, recent activity and rewards options, or redeem your points by visiting 'Credit Cards' in Online/Mobile Banking and then navigating to the 'services' menu.
Credit Builder Mastercard

Specifically for members between the ages of 18 and 21, GenFed's Credit Builder Mastercard helps younger members establish good credit.

Free credit counseling session with a GenFed loan officer
Convenient online access
25 day grace period
Co-signer not required

There's no minimum income requirement, you just have to work a minimum of 15 hours per week.
Clean Start Mastercard

Is your credit less than perfect? We can help you rebuild it! A Clean Start Mastercard from GenFed offers easy approval for members with damaged credit and helps them improve their credit score.

$300 to $500 limit helps you keep spending in check
Low $5 monthly fee
No share pledge required

After 2 years of on-time payments, you may be able to transfer to a lower rate, higher limit, no-fee GenFed Mastercard.
Share Secured Mastercard

A Share Secured Mastercard can help build your credit history and score! This is a great choice for re-establishing credit or first time credit users.

Credit Card limit matches the secured deposit
Convenient online access
25 day grace period
No annual fees
Make payments at your local branch
Protection for disputing a charge
See disclosures for more information.