We are lowering the cost of overdraft protection! It's now more affordable than ever to run a little short.
Mistakes happen and they shouldn't cost a small fortune. Now, for a reduced cost of $20, we'll ensure your transaction is covered. And the cost shouldn't ruin your day! Plus, the maximum overdraft privilege pay limit is increasing to as high as $800.
Effective June 1, 2023 the overdraft and NSF fees are being reduced from $30 to $20. Opt into Extended Overdraft Privilege Pay here, or contact your local branch so you can be protected.
Overdraft Protection Options
With as busy as life gets sometimes, it's no surprise that accidents happen once in a while when it comes to keeping track of how much you have available in your checking account. To help you avoid the embarrassment and expense of an overdrawn check, we offer overdraft protection options for your GenFed checking account.
We also recommend using our free online and mobile banking services with eAlerts to help you keep track of your money 24/7!
Overdraft Privilege Pay (ODPP)
Overdraft Privilege Pay for overdrawn checks and ACH items including automatic bill payments and other transactions made using your checking account number is an AUTOMATIC service that comes with your account for GenFed members who are:
18 years of age or older,
have no past due loan(s) over 10 days,
have no charged off loan(s) or loss to the credit union,
and have no prior or current collection activity.
Instead of you having to worry about your payment getting returned, we'll automatically take care of it for you in most circumstances!* There's a $20 fee for each item we cover, and you have 30 days to repay the overdrawn funds. There is a maximum of 6 fees per business day.
Extended Overdraft Privilege Pay for ATM and everyday debit card transactions is an OPT-IN service that covers these transactions when you make a purchase or use the ATM and don't have the money already in your account. Here is a description of what happens when you opt in or out of the program: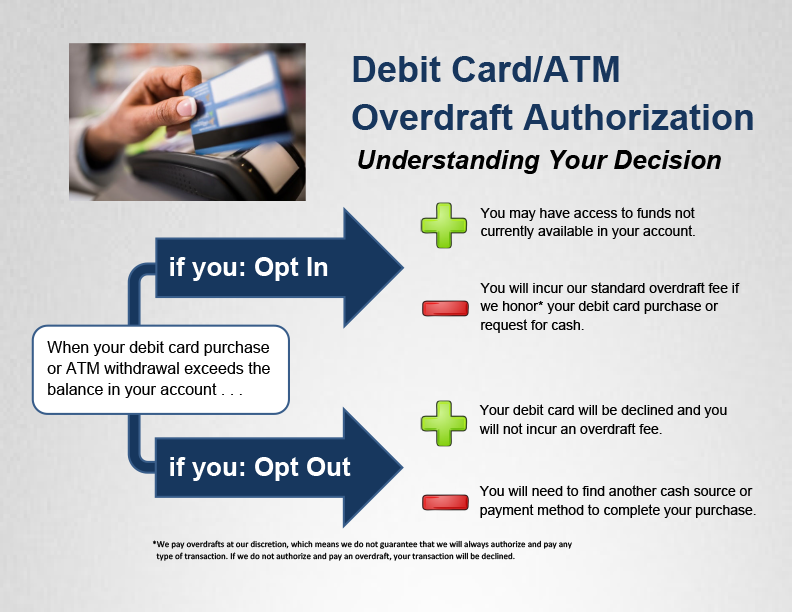 | | | |
| --- | --- | --- |
| ACH - Auto Debits | X | X |
| ATM Withdrawals | | X |
| Checks | X | X |
| Everyday Debit Card Purchases | | X |
| In-Person Check Cashing | X | X |
| Online Bill Pay Items | X | X |
| Recurring Debit Card Payments | | X |
If you choose Extended ODPP, ATM withdrawals and everyday debit card transactions will be included with the transactions listed under ODPP for Checks and Auto Payments.
Even though you may have already indicated your choice when you opened your account, you can opt in or out of Overdraft Privilege Pay for ATM and everyday debit card transactions at any time by completing this form or calling your local branch with a verbal authorization.
Debit Card / ATM Overdraft Privilege Pay Opt in/out
Overdraft protection transfer (as described below) will apply first and Overdraft Privilege Pay will be used as a backup unless you designated differently.
Overdraft Protection Transfer
You can protect your checking account from accidental overdraft by setting up automatic funds transfer from your GenFed savings account or line of credit. If you choose to set this up, it will be used before Overdraft Protection Privilege Pay. If your checking account becomes overdrawn, money will be transferred from your designated savings account or line of credit.
$4 fee per use for automatic transfers
No fee if you transfer the money from the line of credit yourself prior to overdraft
Automatic line of credit transfers occur in $100 increments
No monthly fees
When you open a checking account with us, your GenFed savings account will automatically be linked for overdraft protection transfer.
If you open a line of credit with GenFed, we can assist you in setting your line of credit up as overdraft protection.
Overdraft coverage is not guaranteed. We pay overdrafts at our discretion, which means we do not guarantee that we will always authorize and pay any type of transaction. If we do not authorize and pay an overdraft, your transaction will be declined.